Expand
Enabling the Browser UI for Oracle Service Cloud sites
Answer ID 6926 | Last Review Date 09/16/2019
How do I enable Browser UI for my Oracle Service Cloud site?
Environment:
Browser User Interface (UI/BUI) on versions older than 17D. Sites 17D and higher have Browser UI enabled by default.
Resolution:
The Browser User Interface is supported for the last five (5) Oracle Service Cloud releases for all customers. Therefore, to maintain Browser User Interface support, you must update Oracle Service Cloud at least once a year. In order to leverage the latest and greatest of Browser User Interface, we recommend you join the Automatic Update Program and stay on the latest version of Oracle Service Cloud.
The Browser UI is an alternative user interface for the smart client (.NET client) that allows access to majority of agent facing functionality using major browsers like Chrome, Internet Explorer, Safari and Firefox and tablets (both iOS and Android). The Browser UI utilizes existing Service Cloud metadata and is configured with the same designers used to layout the smart client (.NET client). This makes it easy to deploy and use in parallel to the existing smart client.
Please note that the Browser UI is not a replacement for the Oracle Service Cloud smart client but more a complementary solution instead. Additional capabilities to the Browser UI are released monthly but it is not yet at parity to the smart client. Administrators will need to continue to use the smart client for management and configuration of the site. We recommend staying up to date with the features that are being added and what is currently available within the Browser UI by using the following links:

For those customers not on 17D and above that are on at least one of the last five (5) Oracle Service Cloud releases that would like to enable the Browser UI, please use the following enablement process:
ENABLING BROWSER UI FOR YOUR SERVICE CLOUD SITE
Prerequisites:
Your site must be on one of the last five (5) Oracle Service Cloud releases; meaning you must be in the Auto Update Program (AUP) or update your Oracle Service Cloud base site at least once a year.
You must currently have an active desktop license.

To enable:
Go to the Oracle Service Cloud Configuration Assistant, which can be accessed from the Oracle Cloud My Services Dashboard. For more information, please see Oracle Service Cloud Configuration Assistant on Oracle Cloud Portal.
1. From the Configuration Assistant home page, click the Service site for which you want to enable Browser User Interface.
2. The Site Details page will open.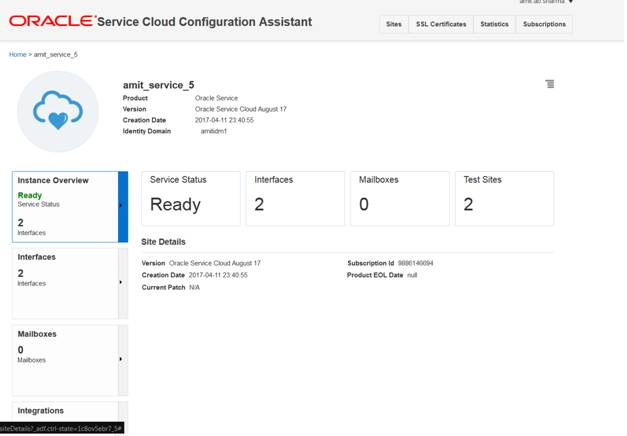 3. Click the Integrations tile.
The Service Integration page will open listing all integration and product add-ons your organization has purchased.
4. Click the Enable button next to the Section Browser User Interface (BUI) which is towards the end of the page.


5. Click OK to Enable Browser UI on the confirmation Popup.


6. Enabling Browser UI will take a few minutes. When the operation is complete, you will see the following information. Use the displayed BUI URL to access Browser UI.
Browser User Interface (BUI)
Browser User Interface (BUI) is enabled on this service site.
BUI URL http://<service_site_name>/AgentWeb/

7. After your site is enabled, remember to go into profiles and grant permissions so that the users with that profile can use the same login and password to log into the Browser UI as they do the smart client (.NET client).

To raise application issues with Browser UI, refer to Answer ID 6950: Raising Browser UI application issues.
Available Languages for this Answer:
Spanish

Portuguese (Brazil)
Notify Me
Login
The page will refresh upon submission. Any pending input will be lost.