Expand
Reporting on the IF Conditions and THEN actions of business rules
Answer ID 6422 | Last Review Date 12/19/2018
Can I report on the IF Conditions and THEN actions of business rules?
Environment:
Analytics, Business Rules
Oracle B2C Service
Resolution:
Unfortunately, it is not possible to report on the IF conditions and THEN actions of business rules. You can determine if a column is reportable by going to the Data Dictionary and looking for 'Analytics Usage' in the Column information. If you do not see 'Analytics Usage', you will not be able to report on the table and field. The 'ruleacts' and 'ruleconds' tables are not reportable as shown below because they do not have 'Analytics Usage' information.
The 'Analytics Usage' information will be listed in the Column Information section of the Data Dictionary. Notice in the screen captures below that there is no Analytics Usage listed.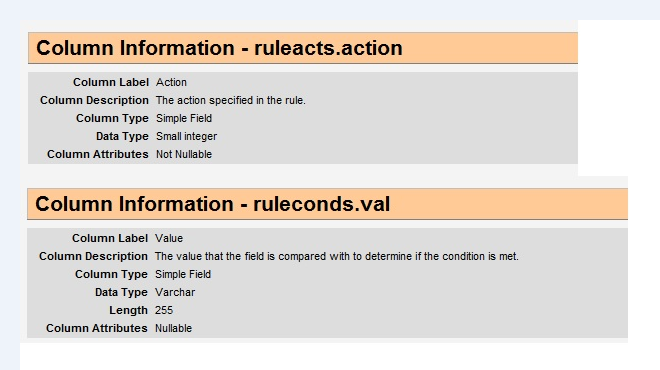 The following screen capture is simply to illustrate where the 'Analytics Usage' will appear within the Column Information in the Data Dictionary.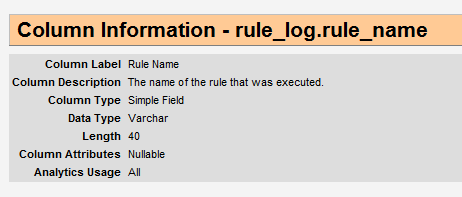 For more information on the Data Dictionary, refer to Answer ID 2611: Accessing the data dictionary and the online documentation for your version. To access Oracle B2C Service manuals and documentation online, refer to the Documentation for Oracle B2C Service Products.
Notify Me
Login
The page will refresh upon submission. Any pending input will be lost.