Expand
Accessing Oracle Service Cloud VCIO Cloud Service
Answer ID 5296 | Last Review Date 01/27/2019
How do I access Oracle Service Cloud VCIO Cloud Service?
Environment:
VCIO, End-user pages
Resolution:
Log into VCIO use your Oracle Service Cloud support site credentials, (the same credentials you use to login to our support site at cx.rightnow.com) at the following URL: https://csp.rightnow.com/vcio/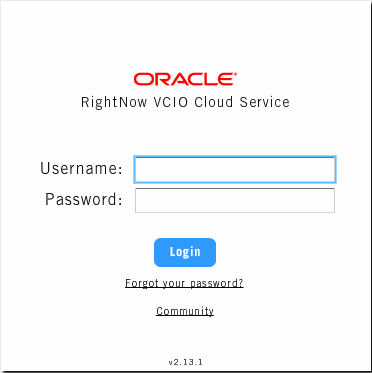 You will be taken to the login page containing the following login dialog. Contacts that have Contact Manage or Technical Contact permissions in Contact Management can access VCIO.
If you are experiencing issues logging into VCIO, please check the following:
1. Ensure your credentials are correct by logging into the support site at https://cx.rightnow.com

2. Verify your record has Contact Manage or Technical Contact permissions with your RightNow CX administrator.

3. If your account has become locked due to invalid login attempts, it will automatically unlock within 2 hours. If your account is not unlocked within 2 hours after you reset your password, at that time you can submit a support request to unlock your account.
The following answer may assist you:
New contacts or contacts that have left your organization can be updated via the Contact Management page. Refer to Answer ID 1560: Using the Contact Management page to add or update designated contacts.
Available Languages for this Answer:
Spanish

Portuguese (Brazil)
Notify Me
Login
The page will refresh upon submission. Any pending input will be lost.