Expand
Usuário Administrador bloqueado da instância OFS
Answer ID 12178 | Last Review Date 04/18/2022
O time de suporte do OFS pode redefinir minha senha de administrador da instância OFS ou criar um novo usuário administrador para mim?
Ambiente:
Oracle Field Service (OFS)
Problema:
Sou o único administrador na instância OFS e não consigo fazer login. A Oracle pode criar um novo usuário para mim ou redefinir minha senha?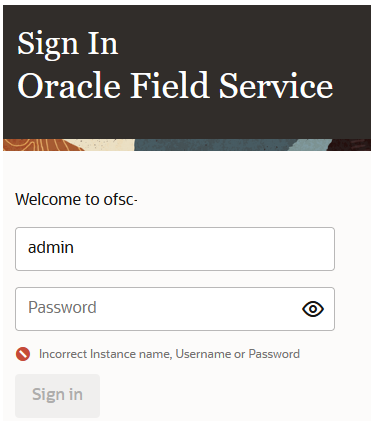 Resolução:
A equipe de suporte do OFS não pode criar um novo usuário ou redefinir sua senha.

Por favor u

se o Cloud Portal para recuperar o acesso à sua instância OFS.
Você pode redefinir sua senha de administrador do OFS ou criar um novo usuário de backup seguindo estas etapas
:
Insira seu 'Cloud Account Name' e clique

Next

Faça login com as credenciais da sua

Cloud Account e vá para o Console do OFS
Na guia

Available Instances

, localize a instância que você precisa

Reset Admin User

no menu de ação.
Selecione

Reset Password

para inserir o username ou selecione

Create Admin User

.

Uma nova senha temporária será fornecida na própria tela.

O sistema solicitará que você altere sua senha assim que fizer login com as credenciais temporárias

.

Available Languages for this Answer:
Notify Me
Login
The page will refresh upon submission. Any pending input will be lost.