Expand
Informes SOC de Oracle Field Service
Answer ID 12031 | Last Review Date 12/10/2021
¿Dónde puedo encontrar informes SOC de Oracle Field Service?
Entorno:
Todas las versiones de Oracle Field Service (OFS)
Problema:
Necesitamos los informes SOC de Oracle Field Service.
Resolución:
Los informes SOC están disponibles para descargar desde Oracle Cloud Portal.
1- Acceder al sitio web cloud.oracle.com/sign-in y hacer clic en Sign In
2- Seleccione el tipo de cuenta y dominio de identidad/DC adecuados y proceda con el inicio de sesión.
3- Hacer clic en el servicio desde su Panel de Control. (por ejemplo: Field Service)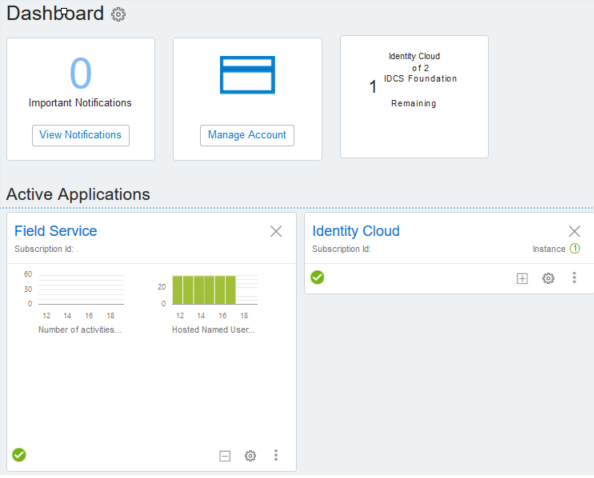 4- Seleccione la pestaña Documents.
Se mostrará un conjunto de informes disponibles. Puede filtrar la lista mediante el menú desplegable. SOC-1 y SOC-2 se encuentran disponibles para descargar.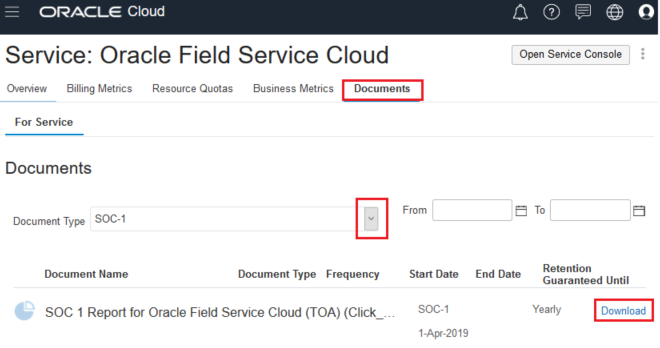 Available Languages for this Answer:
Notify Me
Login
The page will refresh upon submission. Any pending input will be lost.