Expand
No se puede cambiar el recurso seleccionado en la actividad masiva
Answer ID 11597 | Last Review Date 06/09/2020
¿Por qué no puedo cambiar el recurso seleccionado en la actividad masiva?
Entorno:
Oracle Field Service (OFS)
Problema:
Un usuario creó una actividad interna masiva para un grupo de recursos (Florida), del cual es la supervisora ​​y solo tiene visibilidad para ese grupo en el Árbol de Recursos. Se dio cuenta de que alguien había cambiado el recurso que había seleccionado en la actividad de Florida para 'Sunrise Cable'. Ahora el campo está atenuado y no puede volver a configurarlo como Florida. Sunrise Cable es el nivel más alto en el Árbol de Recursos.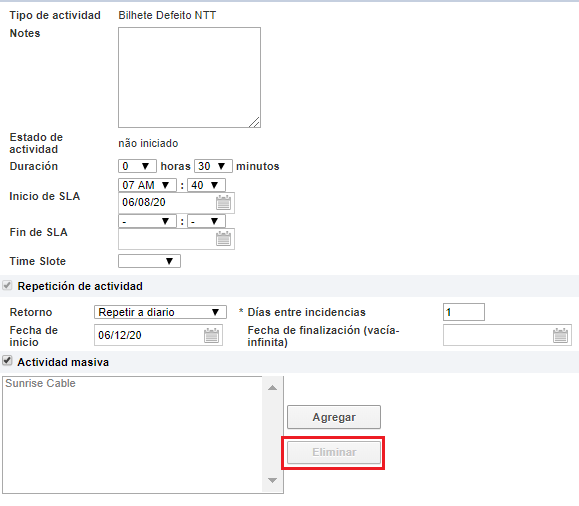 Resolución:
Cuando el recurso seleccionado en la actividad masiva está en un nivel más alto que el recurso al que el usuario tiene acceso en el Árbol de recursos, no se le permite cambiar el recurso y lo verá atenuado. Póngase en contacto con un usuario que tenga visibilidad del recurso seleccionado (en este caso, Sunrise Cable) y el usuario puede resolver el problema eliminando primero el recurso seleccionado y luego agregando el recurso original.
Available Languages for this Answer:
Notify Me
Login
The page will refresh upon submission. Any pending input will be lost.