Expand
Unable to change the resource selected in the Mass activity
Answer ID 11595 | Last Review Date 06/09/2020
Why am I unable to change the resource selected in the Mass activity?
Environment:
Oracle Field Service (OFS)
Issue:
A user created a mass internal activity for a group of resources (Florida) of which she is the Supervisor and only has visibility to this group in the Resource Tree. She noticed that someone changed the resource she selected in the activity from Florida to the 'Sunrise Cable'. Now the field is grayed out and she is unable to set it back to Florida. Sunrise Cable is the highest level on the Resource Tree.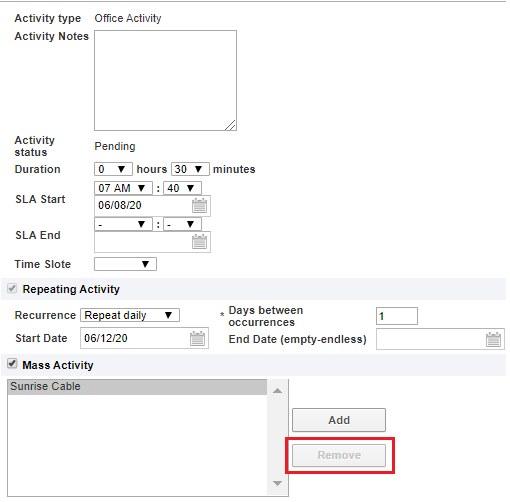 Resolution:
When the resource selected in the Mass activity is higher than the resource you have access to in the Resource Tree, you do not have permission to change the resource and will see it grayed out. Reach out to a user that has visibility to the selected resource (in this case Sunrise Cable) and the user should be able to first remove the selected resource and then add the original resource back.
Available Languages for this Answer:
Notify Me
Login
The page will refresh upon submission. Any pending input will be lost.