Expand
Mensajes al sistema externo contienen una zona horaria incorrecta
Answer ID 11511 | Last Review Date 05/04/2020
¿Por qué los mensajes al sistema externo tienen diferentes zonas horarias?
Entorno:
Oracle Field Service (OFS)
Problema:
Cuando se inicia la actividad, el parámetro activity_start_time se envía en un mensaje a nuestro sistema externo con la zona horaria correcta. Cuando se completa la actividad, activity_end_time también se envía en un mensaje a nuestro sistema externo, pero la hora enviada es incorrecta. Parece que se está enviando en una zona horaria diferente.
Resolución:
Vaya a Configuración > Escenarios de mensajes. Localice el paso de escenario que tiene establecida la zona horaria correcta y verifique la zona horaria especificada en la pestaña Configuración. Localice el segundo paso del mensaje y actualice el parámetro de acuerdo con el primer escenario. Para que ambos mensajes se envíen en la misma zona horaria, el parámetro debe coincidir.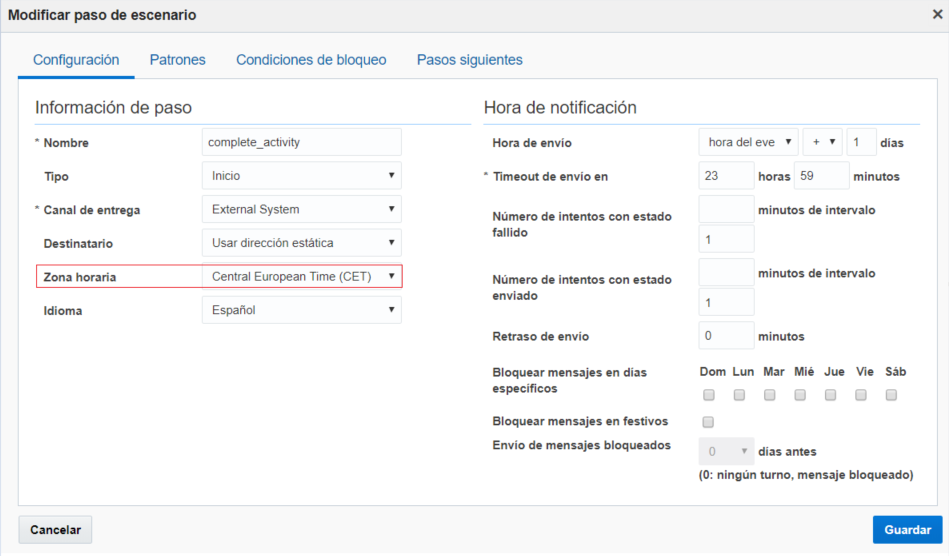 Available Languages for this Answer:
Notify Me
Login
The page will refresh upon submission. Any pending input will be lost.