Expand
Impor a utilização do aplicativo móvel Oracle Field Service para Android ou iOS pelos Recursos de Campo
Answer ID 11298 | Last Review Date 01/12/2020
Como impor os Recursos de campo para utilizar aplicativos móveis Android ou iOS?
Ambiente:
Oracle Field Service (OFS)
Problema:
Eu quero tornar obrigatório o uso do aplicativo móvel OFS para Android/IOS pelos Recursos de Campo .
Resolução:
Para alcançar esse objetivo, os clientes precisam remover a permissão que permite acesso via aplicativos web (navegadores) em Configuração > Tipos de Usuário: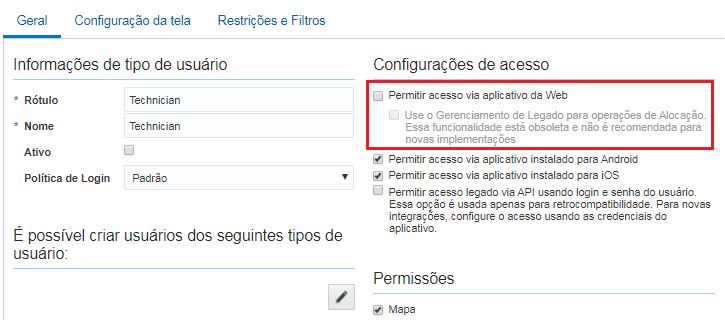 Essa ação irá desabilitar o acesso ao OFS utilizando navegadores web, permitindo somente uso por aplicativos móveis OFS aplicativo para Android ou iOS, descarregados por suas respectivas lojas.
Available Languages for this Answer:
Notify Me
Login
The page will refresh upon submission. Any pending input will be lost.