Expand
La opción de usar el valor 'Dinámico' no está disponible para su selección en las Condiciones del Filtro
Answer ID 11194 | Last Review Date 10/23/2019
¿Por qué en las Condiciones de Filtro no veo la opción de usar un valor 'Dinámico' en un campo?
Entorno
Oracle Field Service (OFS)
Problema
He creado un nuevo Filtro. Al crear las Condiciones de Filtro, no puedo encontrar la opción 'Dinámico', que permite al usuario ingresar un valor para el campo para el cual está destinada la condición.

Resolución
La opción 'Dinámico' dentro de las Condiciones del Filtro, que permite al usuario ingresar valores para una propiedad y establecer el filtro, solo está disponible para los filtros configurados para ser visibles en las pantallas Lista/Tiempo/Mapa/Diario. Si ha seleccionado Ruteo/Enrutamiento o Restricciones en las actividades visibles, la opción 'Dinámico' no estará disponible para su uso.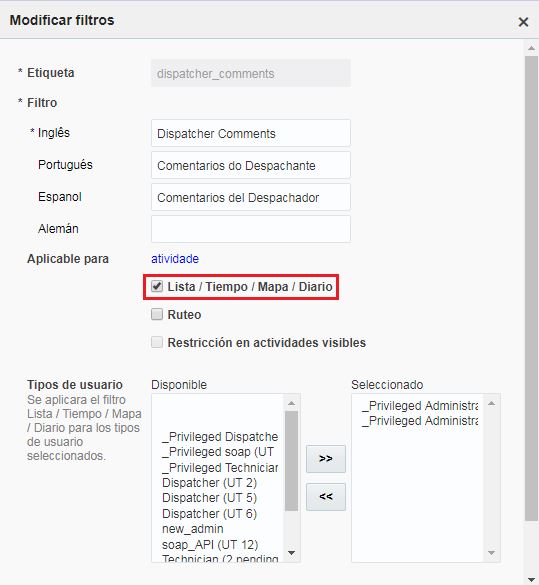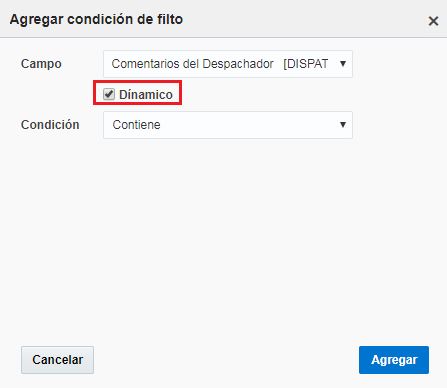 Available Languages for this Answer:
Notify Me
Login
The page will refresh upon submission. Any pending input will be lost.