Expand
No se Puede Buscar un Determinado Tipo de Actividad
Answer ID 11147 | Last Review Date 10/13/2019
¿Por qué no puedo buscar un determinado tipo de actividad?
Entorno:

Todas las versiones de Oracle Field Service (OFS)
Problema:

No sé por qué no puedo buscar ninguna actividad de un Tipo de actividad específica. Todos los demás los puedo buscar sin problema.

Resolución:
En Configuración > Tipo de Actividades, localizar el Tipo de Actividad que no es capaz de buscar y haga clic en el enlace Modificar. Marque la casilla 'Permitir busqueda' en la sección 'Funcionalidades' y haga clic en Actualizar. Cuando se selecciona esta opción, las actividades de este tipo aparecen en los resultados de búsqueda, ya sea en GUI o API.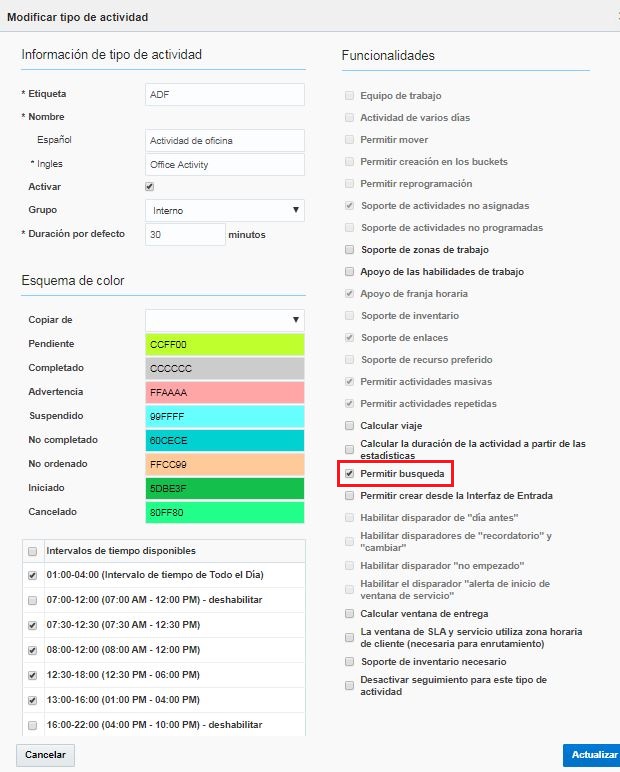 Nota: Podrá buscar actividades creadas después del cambio. Las actividades creadas antes del cambio no devolverán resultados, ya que se crearon durante el tiempo en que la opción estuvo deshabilitada.
Available Languages for this Answer:
Notify Me
Login
The page will refresh upon submission. Any pending input will be lost.