Expand
Não é Possível Pesquisar um Tipo de Atividade Específica
Answer ID 11146 | Last Review Date 10/13/2019
Por que eu não consigo fazer busca por um tipo de atividade específica?
Ambiente:

Todas as versões do Oracle Field Service (OFS)
Problema:

Eu não sei por que eu não consigo efetuar busca para um Tipo de Atividade específica. Todos os outros tipos retornam resultados sem problema.

Resolução:
Em Configuração > Tipos de Atividade, localize o Tipo de Atividade o qual você não é capaz de efetuar busca e clique no link Modificar. Marque a caixa 'Permitir Pesquisa' debaixo da seção 'Funcionalidades' e clique Atualizar. Quando essa opção é selecionada, as atividades desse tipo aparecem nos resultados da pesquisa na GUI ou por API.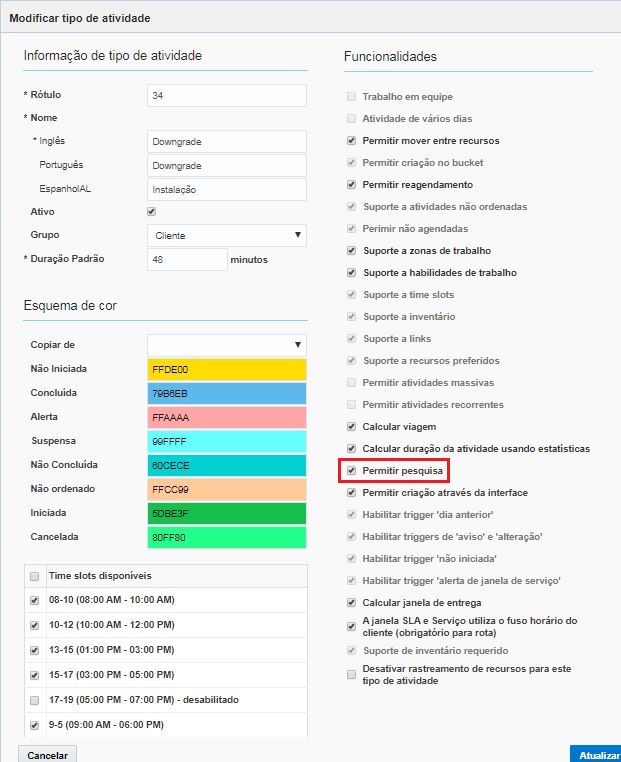 Nota: Você poderá procurar atividades criadas após a alteração. As atividades criadas antes da alteração não retornarão resultados, pois foram criadas durante o tempo em que a opção estava desativada.
Available Languages for this Answer:
Notify Me
Login
The page will refresh upon submission. Any pending input will be lost.