Expand
Como Verificar Alterações na Configuração de um Recurso Específico
Answer ID 11102 | Last Review Date 01/13/2022
Quem/quando executou alterações na configuração de um recurso específico?
Ambiente:
Todas as versões do Oracle Field Service (OFS)
Problema:

Não consigo identificar quem executou ou quando foi executada alteração em um Recurso.
Resolução:
Para verificar alterações relacionadas a um recurso específico (alteração em Calendários, Zonas de Trabalho, Habilidades de Trabalho, Hierarquia do Recurso na Árvore de Recursos), acesse a tela Recurso, selecione o recurso desejado e no menu clique Histórico do Recurso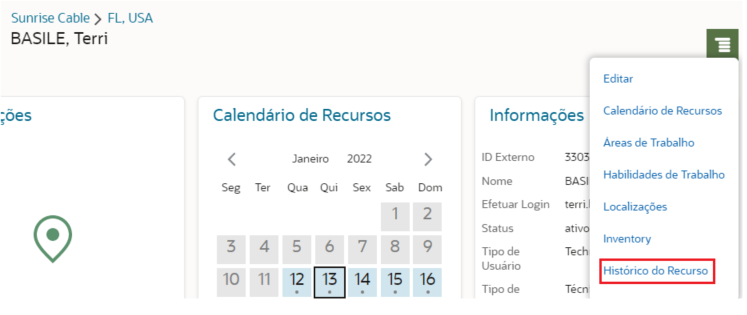 Se o botão não estiver disponível, significa que o Tipo de Usuário que sua conta possui não tem acesso a ele. Para configurar o botão, você precisa seguir as etapas:
Clicar em

Configuração -> Tipos de Usuário

Selecione no lado esquerdo o tipo de usuário que você deseja conceder acesso ao botão.
Uma vez selecionado, clique na aba

Configuração da tela

Expandir a seção Aplicativos e clicar no link

Informações do Recurso/usuário

para modificar esse contexto
No lado esquerdo da tela, selecione uma propriedade que você já possui configurada e clique Grupo.
Localize "Histórico do Recurso", adicione um nome e clique OK

(veja a imagem abaixo)

Adicione a visibilidade ReadOnly. Feche a tela.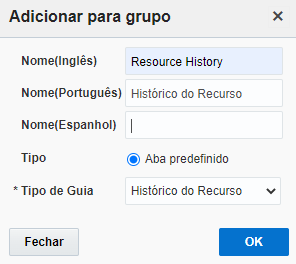 Agora você poderá verificar o histórico de recursos com qualquer usuário que tenha o Tipo de Usuário modificado.
Available Languages for this Answer:
Notify Me
Login
The page will refresh upon submission. Any pending input will be lost.