Expand
Eliminación de la opción de autenticación "acceso heredado mediante API" (Legacy API)
Answer ID 11060 | Last Review Date 09/09/2019
¿Debo tomar acciones y prepararme para la eliminación de la opción de autenticación "acceso heredado mediante API"?
Entorno:
Oracle Field Service (OFS)
Problema:
La opción de autenticación acceso heredado mediante API en la vista Tipos de usuario se encuentra en desuso con la versión 18D (Noviembre de 2018) y se planea eliminar en la versión OFS 19C (Agosto de 2019).
Resolución:
Depreciación significa que aunque una funcionalidad aún se encuentre disponible en la versión actual de Oracle Field Service, Oracle planea eliminar la característica o funcionalidad en una versión futura.
Eliminación significa que la característica o funcionalidad se surpime de Oracle Field Service y ya no estará disponible para su uso..
Una vez que la version OFS 19C (agosto de 2019) se encuentre instalada en su ambiente, la funcionalidad de autenticación de acceso heredado por API ya no funcionará. Para garantizar que sus integraciones continúen operando después de la actualización a 19C, le recomendamos encarecidamente emplear la autenticación por Id de cliente / Secreto de cliente y OAuth2 entre ahora y julio de 2019. Estas opciones se pueden configurar a través de la vista Configuración> Aplicaciones y deben aplicarse a cualquier punto final (endpoint) de API que use actualmente (SOAP y REST).
Por favor siga estos pasos para modificar la integración y pasar de credenciales de 'usuario' a credenciales de 'aplicación':
Puede usar una aplicación existente o crear una nueva (por ejemplo, si ya se encuentra usando una aplicación existente y no desea cambiarla).


Si desea utilizar una aplicación existente, dirigase a la vista

Tipos de usuario

y ubique el tipo de usuario que utiliza para acceder al API. Verifique la aplicación a la cual el tipo de usuario se encuentra asociado. Esto puede verificarse en la lista desplegable 'Los permisos de acceso a la API se configuran mediante la aplicación seleccionada'.
Dirijase a la pantalla

Configuración> Aplicaciones

y busque la aplicación adecuada (o cree una nueva aplicación de ser necesario).


Elija el método de autenticación que más le convenga. La opción más simple para pasar de una autenticación de usuario / contraseña de usuario es usar la opción

'Autenticar mediante ID de cliente / Secreto de cliente'.

En este caso, solo tiene que configurar nuevas credenciales para el acceso a la API en las aplicaciones externas.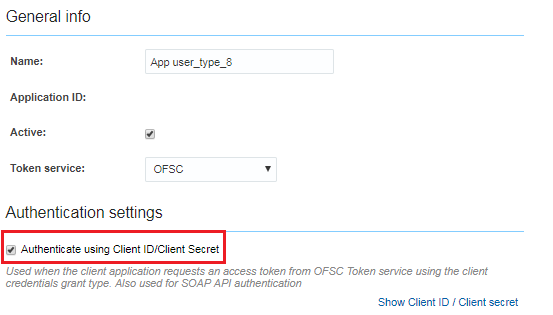 Por ejemplo, si emplea una API SOAP, durante una transacción SOAP debe reemplazar el inicio de sesión (login o user id) con el ID del cliente y la contraseña con el secreto de cliente al generar el nodo de usuario.
Available Languages for this Answer:
Notify Me
Login
The page will refresh upon submission. Any pending input will be lost.