Expand
Submitting a Service Request to Oracle B2C Service Technical Support
Answer ID 9699 | Last Review Date 10/11/2021
What do I need to know about submitting service requests to Oracle B2C Service Technical Support?
Environment:
For customers contacting Oracle B2C Service Technical Support
Resolution:
You can expedite the service request process by following these best practices:
Remember that documentation is essential. The more information you provide, the faster the engineer can get to work on the issue. Answer all pertinent questions and ensure that any action plans have been updated.

If you think that speaking directly with the support engineer over the phone will move your issue forward more quickly do not hesitate to request to work with your support engineer over the phone.

If you think it will be valuable to show the support engineer the behavior you are encountering and the support engineer has not requested it, you may request a collaborative screen-sharing session in order to demonstrate the behavior.

If you are working with a product that allows customization, test your issue in an Oracle standard environment - one that has not been customized. This helps to rule out any customizations and allows the support engineer to focus on the root issue instead of having to first rule out the customizations.

Actively monitor the Service Request status and severities to ensure that no delays occur in obtaining a solution.

If the business impact has changed you will also want to let your support engineer know that a change in severity is necessary.

Finally, you are welcome to engage Support management in the SR process at any point in time.

Prior to submitting a service request please visit our support site at cx.rightnow.com and check the knowledge base for an answer to your question. Should you continue to have a technical issue after following guidance from our knowledge base, there are many convenient ways to submit a service request.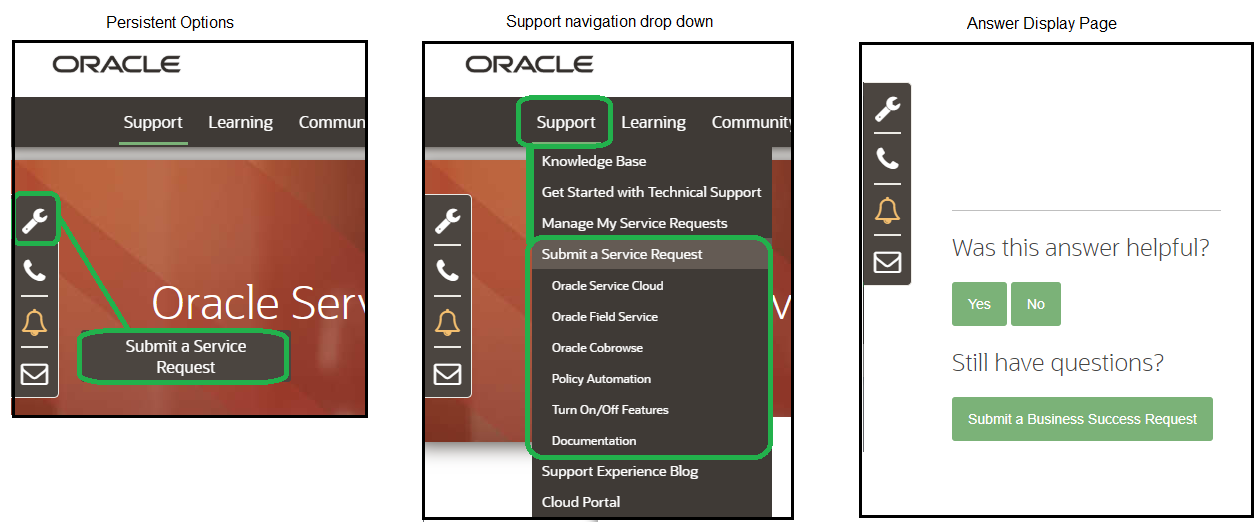 To begin submitting a service request, you must first select the appropriate product line for your service request.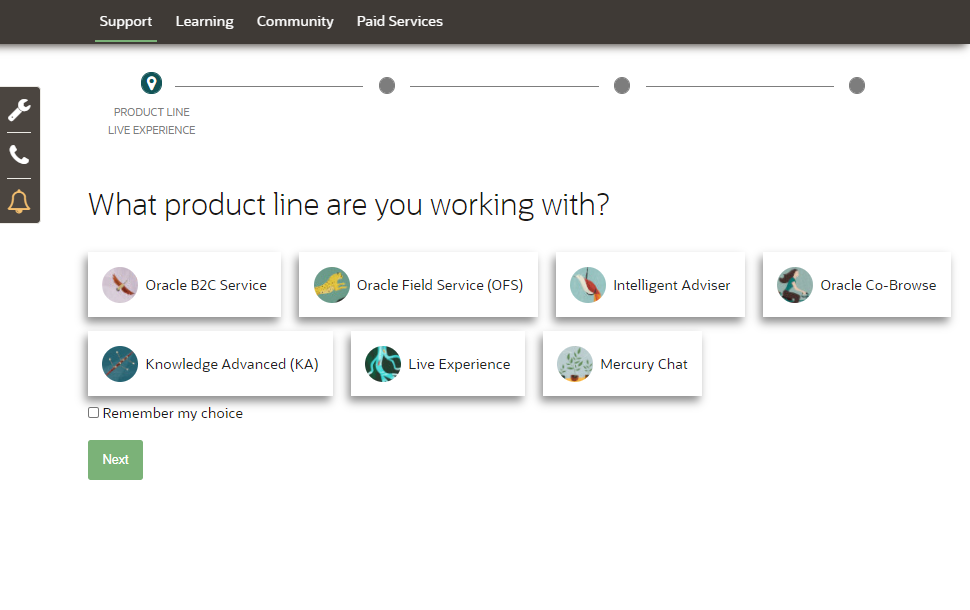 You will then be prompted to provide the reason for the Service Request. This selection will route your issue to the team who can best assist you. Click the links within the options for more details.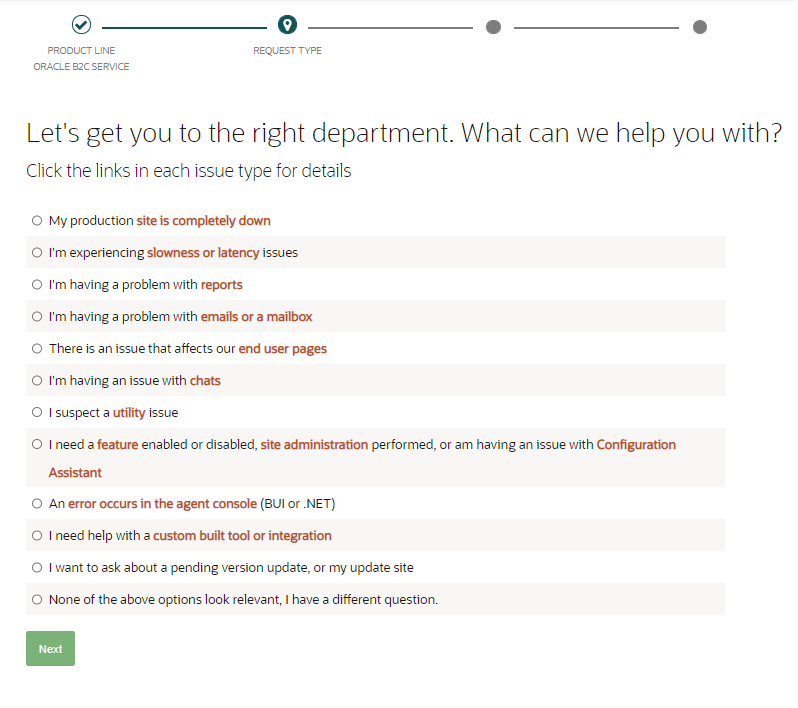 The data collected on the service request submission form will vary depending on the product selection made.
For example, if you select 'I'm having an issue with chats', you will be prompted for the type of issue (i.e. agent console, connection error, etc.). Selecting 'I'm having a problem with reports' will then prompt for the report name, report ID and path.
Make sure you select the right product or options when working through the forms. It's important that you complete all the required information. Click here for a demonstration of the Service Request Submission process.
TIP: Including the following details will speed up the resolution process:
The exact steps to reproduce issue. (If the issue is not reproducible, please provide as much detail as possible regarding the issue that is occurring, including the part of the product affected, the frequency of the issue, and how many workstations are affected. Let us know you cannot reproduce it)

Full screenshots or text of error messages and error codes exactly as they appear on the screen.

Web browser version and service pack or build number of the web browser.

If the issue you are reporting is a performance problem (single workstation issues, slow performance, no access application) with your site, please run the Workstation and Network Data Collector script, available in the following answer and submit the results on your service request.

Any other details and background information you think would be helpful.

Severity Level (Refer to the definitions in Appendix A)

NOTE: To ensure prompt resolution of your issues, it is critical that your staff provide accurate and detailed information, and be available to conduct diagnostic and test activities as requested. Having a single point of contact is also helpful. It is the responsibility of the customer to provide details as we request them in order for us to isolate the root cause of the issue. Due to the nature of the SaaS solution, we need to eliminate various possible causes. Because your team may be running some diagnostics for us and providing further details, this may take some time. We need to be able to capture, or reproduce and trace, in order to understand specifically what is occurring.

Record Keeping and Communication
Oracle maintains records of all support service requests for issues submitted by customers and their resolutions. All customer support interactions will be tracked in our support database to ensure accurate interactions with you, and to help us improve the support process. You can access Account > Support History section of our support portal, to view your company's service requests. This includes your own and those submitted by others in your organization.

Resolution Resources and Process
Resources will be assigned in accordance with the severity of the issue being encountered. Resolution of your issue will depend on the ability of your designated contacts to provide accurate and detailed information, and to conduct diagnostic and test activities as requested by our support team. Please be prepared to devote resources to working with our Support Team to resolve support requests.
Notify Me
Login
The page will refresh upon submission. Any pending input will be lost.