Expand
Redefinindo senhas no Oracle Field Service
Answer ID 8863 | Last Review Date 03/29/2020
Como podemos redefinir a senha de um usuário no OFS?
Ambiente:

Oracle Field Service (OFS)

Resolução:

Para redefinir a senha de um usuário no OFS por favor, execute os seguintes passos:

Vá em Configurações de recursos> Usuários:

Na tela de usuários verá uma lista de todos os usuários de sua empresa. Para alterar a senha de um dos usuários, clique no link Alterar senha no lado direito da tela seguindo a linha do usuário que deseja modificar.

Uma vez na tela Alterar senha, digite uma nova senha e clique em OK.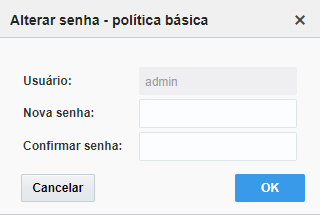 O usuário que você está procurando não está na lista?
Certifique-se de que você tem o nível superior na árvore de recursos selecionado no lado esquerdo da tela. A lista de usuários que aparece é dependente do recurso que você selecionou na árvore.
Você também pode usar o recurso de pesquisa para limitar seus resultados. Para usar o recurso de busca, selecione o botão de visualização acima da lista de usuário, digite os critérios apropriados e pressione aplicar.
O botão Alterar senha não está visível?
Se o botão de alterar senha não está visível, isso significa que o usuário que você está tentando alterar tem mais permissões de acesso do que você, Nesse caso você não será capaz de alterar sua senha.
Available Languages for this Answer:
Notify Me
Login
The page will refresh upon submission. Any pending input will be lost.