Expand
Access Oracle Social Network web client from Oracle B2C Service console
Answer ID 8753 | Last Review Date 09/26/2018
How do I access Oracle Social Network web client from Oracle B2C Service console?
Environment:
August 2014 and newer releases
Resolution:
If the URL for Oracle Social Network isn't known, it can still be navigated to by going to the top left corner and clicking File->Links and scrolling to the section called "Oracle B2C Service Collaboration". Clicking on "Collaboration Web Client" will navigate to the login page for Oracle Social Network.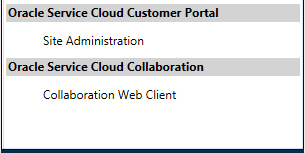 Available Languages for this Answer:
Spanish

Portuguese (Brazil)
Notify Me
Login
The page will refresh upon submission. Any pending input will be lost.