Expand
Filter parameter Days to Activity
Answer ID 12307 | Last Review Date 07/18/2022
Where can I find more information regarding the filter condition Days to Activity?
↵
Oracle Field Service (OFS)
When creating a filter condition, I see the field 'Days to activity'. I don't know what it means.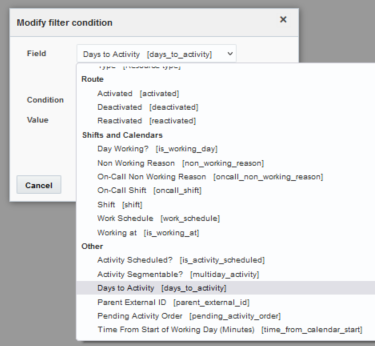 Days to activity refers to the number of days from the current date (in resource's time zone) to the day the activity is scheduled for.
In case of an activity scheduled for today, the value of Days to activity equals to 0.
This condition allows to implement different restrictions on visible activities for past and future days.
Available Languages for this Answer:
Notify Me
Login
The page will refresh upon submission. Any pending input will be lost.