Expand
Resource field in List Columns Configuration
Answer ID 12204 | Last Review Date 04/28/2022
Environment:
Oracle Field Service (OFS)
Issue:
The 'Resource' field in 'List Columns Configuration' is displayed even though this field was not added to the List View Columns screen context.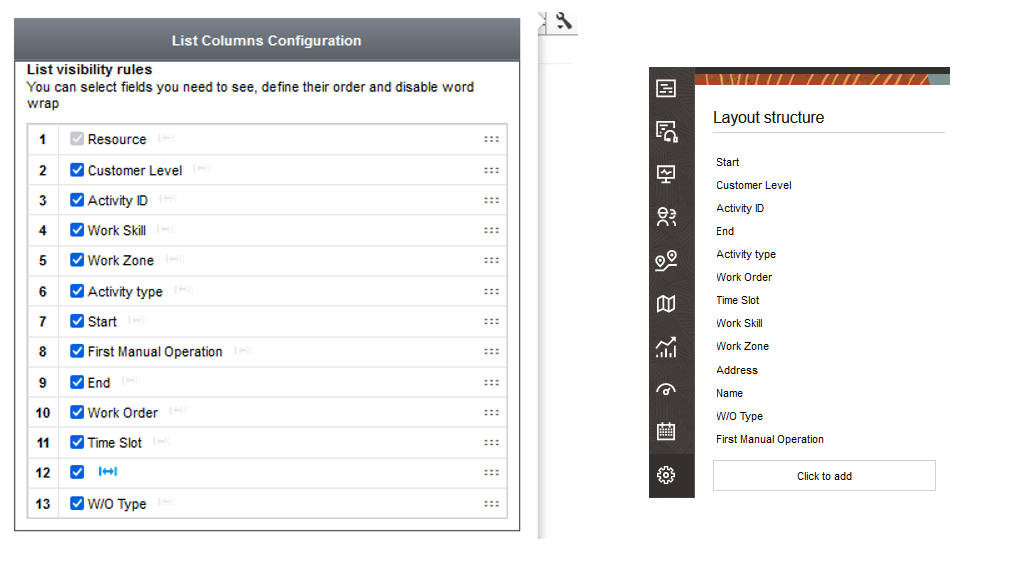 Resolution:
By product design, the 'Resources' column is hardcoded and cannot be removed from the configuration. It always shows at the top of the list.
The checkbox is filled only when a Bucket, Organization Unit is selected and View > Show Hierarchically is set. The checkbox is also automatically filled if a 'favorites' group is selected in the tree. If a Field Resource, Truck or Tool is selected in the Resource Tree, the checkbox does not get filled, there is no need to specify the resource further when an individual resource selected.
Available Languages for this Answer:
Notify Me
Login
The page will refresh upon submission. Any pending input will be lost.