Expand
Adicionando um novo contato à lista de distribuição do Oracle Field Service
Answer ID 12095 | Last Review Date 02/18/2022
Como posso adicionar contatos para que recebam notificações de interrupção de servio do Oracle Field Service?
Oracle Field Service (OFS)
Cloud Portal
Gostaria de adicionar novos contatos à lista de distribuição de e-mail do Oracle Field Service para que eles possam receber notificações de atualizações de serviço, upgrades, interrupções, etc
.
Para adicionar novos contatos para que recebam notificações do OFS, faça o seguinte
:
2- Digite o seu Cloud Portal User Name e Password e clique
Sign In
3- Clique o menu do lado esquerdo acima. Clique
Usuários
4- Selecione a guia
Contatos
5- Certifique-se que a opção 'Notification Contacts' está selecionada no campo 'tipo'. Clique
Adicionar
para adicionar um novo contato.

6-
Digite o novo endereço de e-mail de contato e selecione o serviço que você deseja que ele/ela receba notificações
. Clicar
Adicionar
.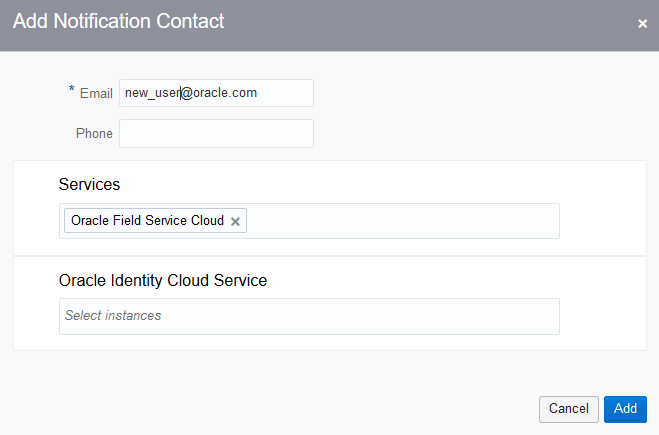 Available Languages for this Answer:
Notify Me
Login
The page will refresh upon submission. Any pending input will be lost.