Expand
Adding a new contact to Oracle Field Service distribution list
Answer ID 11921 | Last Review Date 07/23/2021
How can I add users to receive Oracle Field Service outage notifications?
Oracle Field Service (OFS)
Cloud Portal
I would like to add new contacts to Oracle Field Service email distribution list so they can receive notifications for Service Updates, Upgrades, Outages, etc.
To add new contacts to receive OFS notifications, do the following:
2- Enter your Cloud Portal User Name and Password and click
Sign In
3- Click the menu on the top left. Click
Users
5- Make sure 'Notification Contacts' is selected in 'Type' field. Click
Add
to add a new contact.

6- Enter the new contact email address and select the service you would like he/she to receive notifications. Click
Add
.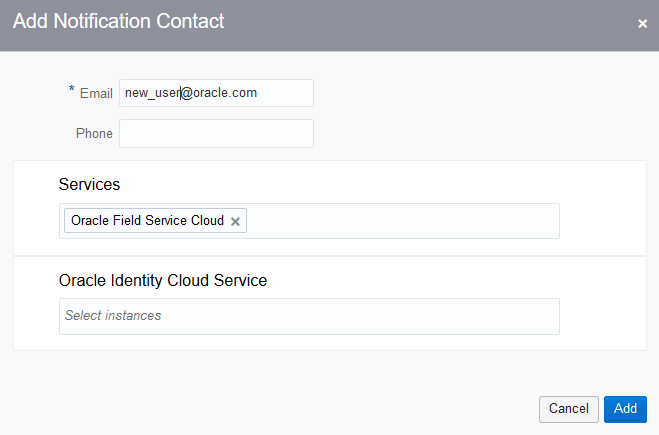 Available Languages for this Answer:
Notify Me
Login
The page will refresh upon submission. Any pending input will be lost.