Expand
Oracle Field Service SOC reports
Answer ID 11843 | Last Review Date 03/18/2021
How can I get the SOC reports for Oracle Field Service?
Environment:
All versions of Oracle Field Service (OFS)
Issue:
My company needs the SOC reports for Oracle Field Service.
Resolution:
SOC reports are available for download in Oracle Cloud Portal.
1- Click on Sign In on cloud.oracle.com/sign-in
2- Select the appropriate account type and identity domain/DC and proceed to login.
3- Click on a service tile from your Dashboard. (i.e. Field Service)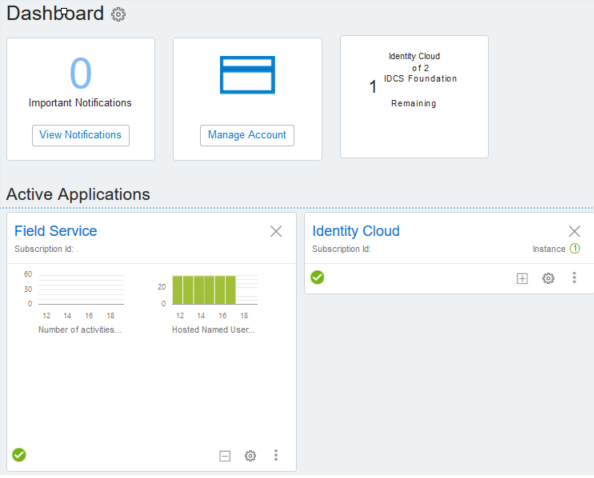 4- Select Documents from the navigation tab.
A set of reports available to you will be displayed. By utilizing the drop-down menu, the list can filtered by report type. SOC-1 and SOC-2 are available for download.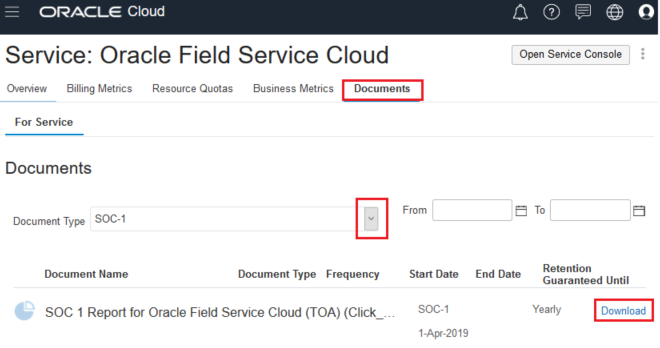 Available Languages for this Answer:
Notify Me
Login
The page will refresh upon submission. Any pending input will be lost.