Expand
Não é possível alterar o recurso selecionado na atividade Mass
Answer ID 11596 | Last Review Date 06/09/2020
Por que não consigo alterar o recurso selecionado na atividade em massa?
Ambiente:
Oracle Field Service (OFS)
Problema:
Um usuário criou uma atividade interna em massa para um grupo de recursos (Florida), do qual ela é a supervisora e só tem visibilidade a esse grupo na Árvore de Recursos. Ela percebeu que alguém alterou o recurso que ela havia selecionado na atividade de Florida para o 'Sunrise Cable'. Agora o campo está acinzentado e ela não consegue defini-lo de volta para Florida. O Sunrise Cable é o nível mais alto da Árvore de Recursos.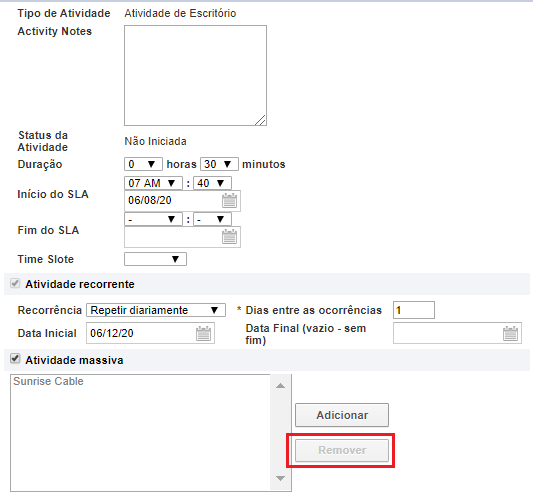 Resolução:
Quando o recurso selecionado na atividade massiva está em um nível mais alto do que o recurso ao qual você tem acesso na Árvore de Recursos, você não tem permissão para alterar o recurso e o verá acinzentado. Entre em contato com um usuário que tenha visibilidade do recurso selecionado (neste caso, Sunrise Cable) e o usuário poderá solucionar o problema primeiro removendo o recurso selecionado e, em seguida, adicionando o recurso original.
Available Languages for this Answer:
Notify Me
Login
The page will refresh upon submission. Any pending input will be lost.