Expand
Búsqueda de actividad en la pantalla Agregar Link
Answer ID 11564 | Last Review Date 05/27/2020
¿Por qué no obtengo resultados cuando busco una actividad en la pantalla Agregar Link?
Entorno:
Oracle Field Service (OFS)
Problema:
Quiero crear un enlace entre las actividades, pero cuando hago clic en el botón Agregar Link en la pantalla Links de actividad, la actividad no regresa en los resultados y se muestra el mensaje "No se encontró nada. Modifique los criterios e intente de nuevo".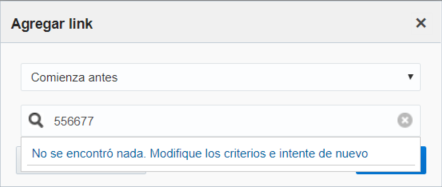 Resolución:
El campo de búsqueda en la pantalla Agregar Link utiliza el mismo criterio establecido en el campo de búsqueda de actividad principal. Para encontrar la actividad en la pantalla Agregar Link, asegúrese de que el criterio que está utilizando para su búsqueda esté seleccionado en las opciones de la Configuración de búsqueda como se indica a continuación.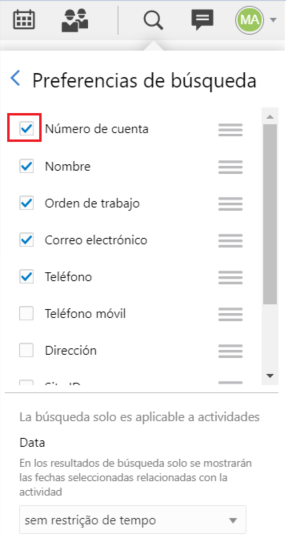 Available Languages for this Answer:
Notify Me
Login
The page will refresh upon submission. Any pending input will be lost.