Expand
Error 'La acción no está permitida'
Answer ID 11460 | Last Review Date 04/19/2020
¿Por qué aparece el error 'La acción no está permitida' cuando cambio los datos de un usuario?
Entorno:
Oracle Field Service (OFS)
Problema:
Recibo el error 'No se permite la acción' al cambiar el valor de una propiedad en la pantalla Recursos > Editar Recurso. Mi usuario tiene permiso de lectura y escritura en la propiedad. No entiendo por qué se muestra el error.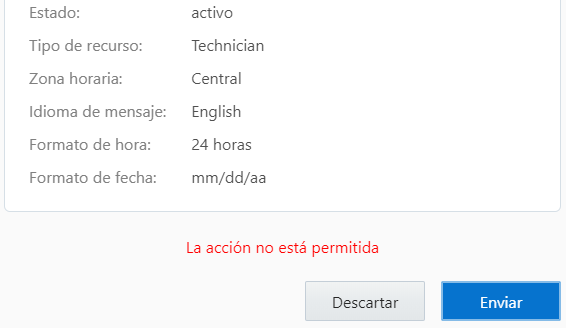 Resolución:
Para poder editar propiedades o campos en la pantalla Recursos > Editar Recurso, asegúrese de que el usuario que realiza el cambio tenga permiso para realizar cambios para el Tipo de Usuario específico.
Vaya a Configuración > Tipos de Usuario y verifique que el Tipo de Usuario en el que está realizando el cambio aparece en la configuración 'Puede crear usuarios del siguiente Tipo de usuario'.
Available Languages for this Answer:
Notify Me
Login
The page will refresh upon submission. Any pending input will be lost.