Expand
No se puede agregar un Plugin HTML5 al contexto de configuración de Tipos de Usuario
Answer ID 11343 | Last Review Date 01/26/2020
¿Por qué no puedo agregar mi Plugin recién creado en los contextos deseados?
Entorno:
Oracle Field Service (OFS)
Problema:
Creé un Plugin HTML5 con la opción 'Items menu principal' seleccionada. No puedo agregar el Plugin en ningún contexto de Tipo de Usuario. No se muestra el Plugin para la selección.
Resolución:
Si marca la opción 'Items menu principal' en la pantalla de configuración del Plugin, Oracle Field Service solo mostrará el Plugin disponible para su selección en Tipos de Usuario > Configuración de Pantalla > Manage (WEB) > Ítem de menu principal. Todos los demás contextos de pantalla no mostrarán la opción cuando seleccione el botón Add button y elija Plugin.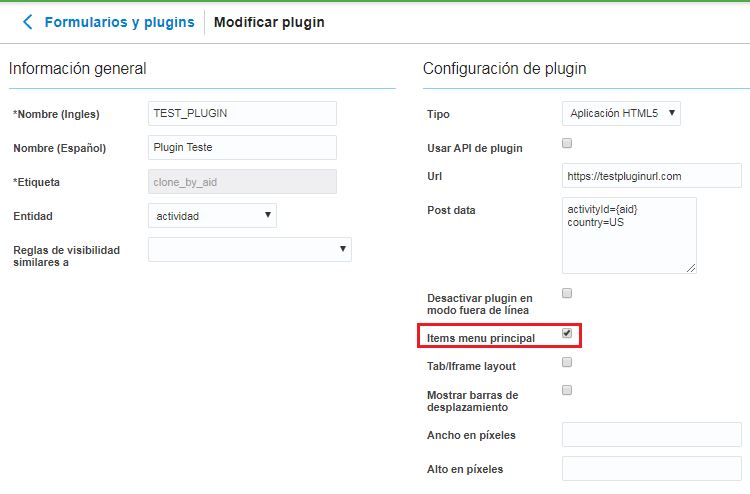 Si necesita agregar el Plugin a otros contextos,desmarque la opción 'Items menu principal'.
Available Languages for this Answer:
Notify Me
Login
The page will refresh upon submission. Any pending input will be lost.