Expand
Un nuevo intento de mensajería después de un fallo se define como MESSAGE_STEP_EXPIRED
Answer ID 11222 | Last Review Date 11/20/2019
¿Por qué para el siguiente intento de mensajería después de la falla está siendo definido como 'MESSAGE_STEP_EXPIRED'?
Entorno
Oracle Field Service (OFS)
Problema
He establecido una serie de reintentos en el parámetro 'Número de intentos con estado fallido' para un paso de un escenario de mensaje, pero los mensajes no se envían y se definen como MESSAGE_STEP_EXPIRED.
Resolución
El valor en el parámetro 'Timeout de envio en' debe ser lo suficientemente grande como para acomodar todos los reintentos y el intervalo entre reintentos.
Ejemplo: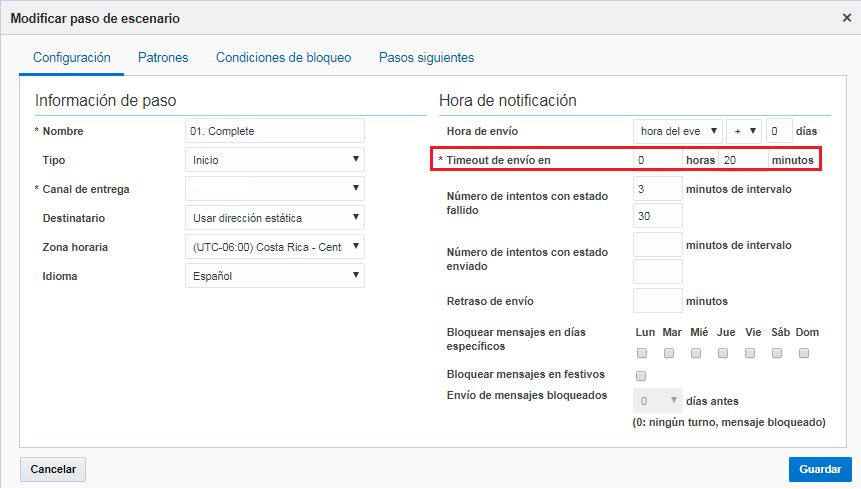 De acuerdo con la configuración anterior, el parámetro 'Hora de envío' se establece en 'Hora de evento + 0' y el parámetro 'Timeout de envío en' se establece en '20 minutos'.
En nuestro ejemplo, el mensaje se envía primero al sistema externo a las 16:45.
El sistema externo envía un set_message_status de 'fallido' a las 16:48.
Según la configuración en el paso de escenario, el sistema debe realizar el siguiente intento 30 minutos después del primer intento (16:45 + 30 = 17:15). Debido a que el parámetro 'Timeout de envío en' se establece en 20 minutos, el mensaje no se enviará y se establecerá en MESSAGE_STEP_EXPIRED porque el valor en 'Timeout de envío en' ya expiró hace 10 minutos.
Available Languages for this Answer:
Notify Me
Login
The page will refresh upon submission. Any pending input will be lost.