Expand
Impact of ARCHIVE_INCIDENTS and PURGE_DELETE_INCIDENTS settings on Data Lifecycle Policies
Answer ID 10414 | Last Review Date 10/15/2018
Will incident archive settings transfer to the Data Lifecycle Policies configuration when we upgrade to 18B?
Environment:
Data Lifecycle Policies, Archiving, Purging Records
Oracle B2C Service (OSvC), 18B and newer
Resolution:
The Data Lifecycle Policies take the prior ARCHIVE_INCIDENTS and PURGE_DELETE_INCIDENTS settings into consideration.
As an example, when ARCHIVE_INCIDENTS is disabled (set to 0) on pre-18B versions of Oracle B2C Service (OSvC), then once your site is updated to 18B or newer, the default Data Lifecycle Policies will be disabled. Likewise, if your ARCHIVE_INCIDENTS was set to x number of days, then the new related Data Lifecycle Policy will be setup with the same number of days.
Here is an example of how this will look for Incident policies when your prior PURGE_DELETE_INCIDENTS and ARCHIVE_INCIDENTS settings were disabled: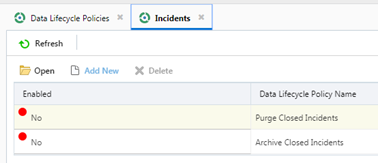 To see a list of the default policies, see View Data Lifecycle Policies in online documentation.
For more information, see these additional resources:
Answer 10013: Using Data Lifecycle Policy to purge (or archive)
Answer 6421: Configuring incident archiving
Answer 4316: Difference between dormant, archived and purge delete incidents settings
Notify Me
Login
The page will refresh upon submission. Any pending input will be lost.